All questions submitted by BravoTV.com
I've never met a person that thinks it's okay and classy to come to someone's home just to talk trash about it
Bravotv.com:
What did you think of Karen's explanation of her move?
Monique Samuels: Karen's explanation overall still doesn't make sense to me, but as I stated before, if she's happy that's all that matters. She said she moved to be closer to her parents who live in Richmond but that's still a 90 minute drive from Great Falls, VA. Then she said they prefer Maryland over Virginia. I know based on my estate attorney that it's cheaper to retire in Virginia than Maryland, so maybe that has something to do with it.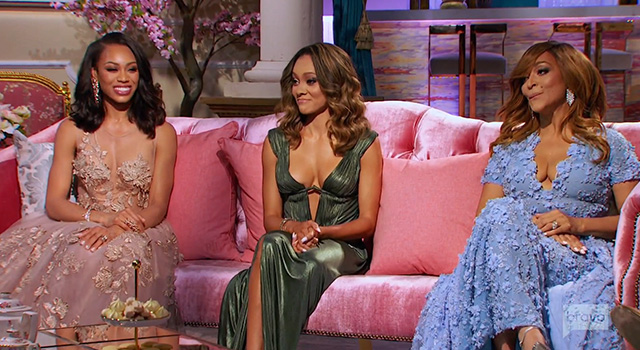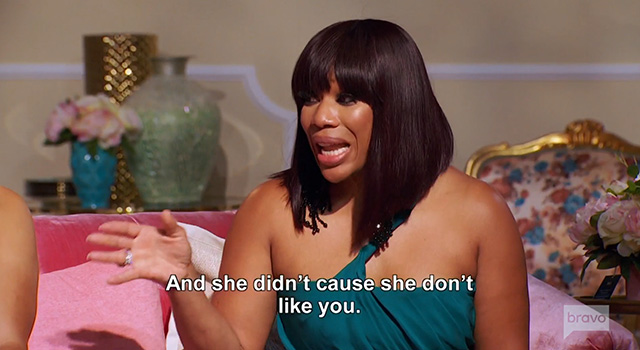 Bravotv.com:
What did you think about Gizelle's explanation of your "lack of class" and saying everyone talks about people in their homes? Was she dodging how shady she was being?
MS: I think her explanation only showed her own lack of class. She was definitely back pedaling and tried her best to right her wrongs. The best thing she could have done was apologize and just admit she was being shady and own it! I've never met a person (until now) that thinks it's okay and classy to come to someone's home just to talk trash about it. She should have came up with a better excuse for her behavior.
I would never put anyone down based on their finances, living arrangements, or relationships
Bravotv.com:
Tell us about your clash with Robyn and Gizelle at the Reunion? Do you think they mean girl together?
MS: I definitely feel like Gizelle and Robyn bounce off of each other's energy and their mean girl approach is very crafty. Gizelle is more outwardly mean, while Robyn is a lot more hidden with her approach. Robyn has a lot of side comments and relays what she feels to Gizelle. Gizelle then takes the bait and voices what is told to her by Robyn, as if she's the one who experienced it. Maybe Robyn doesn't realize she's doing the same as Gizelle since she's not as confrontational. Even though I made this observation about Robyn, my intention was not to clash with her. I just wanted her to know I didn't think it was cool that she blamed a lot of things on Gizelle, which only caused more unnecessary tension.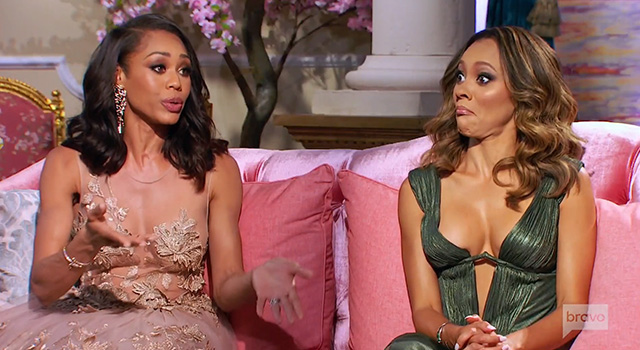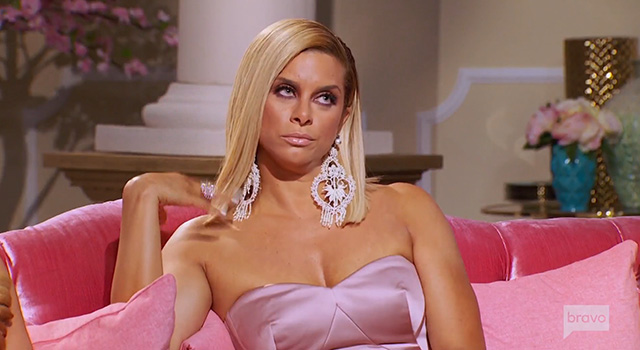 Bravotv.com:
Were you surprised how angry Robyn got with you about your blog? What did you mean?
MS:  Yes! I was totally surprised since the blog was not about her. I couldn't understand why she felt it was an attack on her but I still apologized to her for putting her name in the middle. I basically called out Gizelle for only having confidence in herself when Robyn was with her. That's what I meant when I said she uses Robyn as her "purse" and having a girl crush on her. I analyzed Gizelle's constant attacks on me and her trying to separate my marriage as an attempt to put me beneath her. She comes across as a person who likes to be the "big fish" in the pond and only wants to befriend people SHE feels (in her own mind) are beneath her. I've always looked at Robyn as my equal and would never put anyone down based on their finances, living arrangements, or relationships. That's a conversation Robyn and Gizelle need to have especially since Gizelle never denied my accusation during the reunion.
This was the perfect time for Ms. "As Real As They Come" to be completely honest
Bravotv.com:
Did you realize Robyn had made those comments caught at the end of the episode about cameras and Ashley? What are you thinking watching it now?
MS:  I didn't know about Robyn's comments towards Ashley during our break. I was very surprised that Robyn didn't say it directly to Ashley since she was literally sitting across the room. I could always see there was still some unresolved tension between the two of them. This was the perfect time for Ms. "As Real As They Come" to be completely honest with Ashley about how she felt about the rumors Ashley spread about Juan. She could have finally put the entire situation to rest had she said those things directly to Ashley rather than Charrisse. I was also surprised because it seemed as though Robyn was trying to rile Charrisse up as well. Charrisse seemed pretty unbothered by Ashley and had she fed into the hype, she too would be taking 10 steps back from the progress made. Robyn always says she's caught in the middle of the rotating friendships, but this makes me wonder if she's really the one fueling the fights (insert confused emoji LOL)!