All questions submitted by BravoTV.com
I assumed most married couples who have been married for over 20 years would have a shared account
Bravotv.com:
What were you thinking when Karen drove up in that amazing car considering Ray's tax issues?
Monique Samuels: My first thought was "Wow this car is everything!" I'm such a car person! My next thought was wondering why someone with tax issues would make a large purchase like this. Although Karen says she didn't know about the tax debt and the debt is technically not hers, I would personally think it would be best to avoid making lavish purchases. I would want to learn more about how the tax issue would not only impact Ray's business, but also the impact on personal finances. Also, as the IRS looks deeper into how they can be repaid, I wouldn't want them to think I wasn't taking the issue seriously by spending large amounts of money. Even though Ray and Karen file taxes separately, this may be a time in their life where Karen has to be the help he needs when it comes to their finances. She may have to now support him in the way he supported her all of these years mentally, physically, emotionally and financially. The real question is what Ray was thinking when she came home with a $100,000 vehicle. Everyone operates differently so I believe Karen will do what's best for her and her family.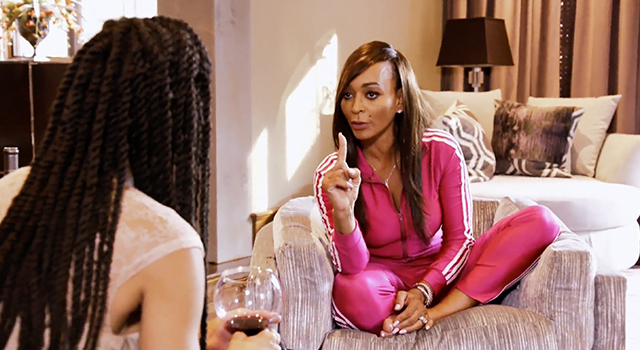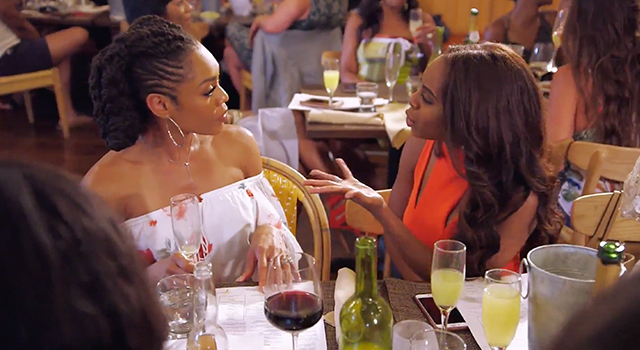 Bravotv.com:
Tell us about Karen confiding in you and finding out about the two separate accounts. Did you have a hard time believing her?
MS: I assumed most married couples who have been married for over 20 years would have a shared account. I believed Karen when she explained why they maintained separate accounts, since every marriage does operate differently. Chris and I decided from the moment we got married that we would share everything. I'm learning very quickly how unique that arrangement may be. When it comes to our finances, we discuss everything.
When I met Candiace, it was love at first sight!
Bravotv.com:
Tell us about meeting Candiace – you two seem like a match made in Potomac heaven!
MS: When I met Candiace, it was love at first sight! LOL! She is beautiful, bubbly, can talk as much (if not more) than me, very loud, and very confident. She is my type of girlfriend! Our energy fed off each other's and while we conversed, we were in our own loud, energetic heaven! There was so much positive energy that even when Ashley tried to stir drama with her question of "Which one of the women was I referring to," I quickly ignored it. The conversation I had with Candiace is the type of fun conversation and connection I believe has been missing among this group of ladies.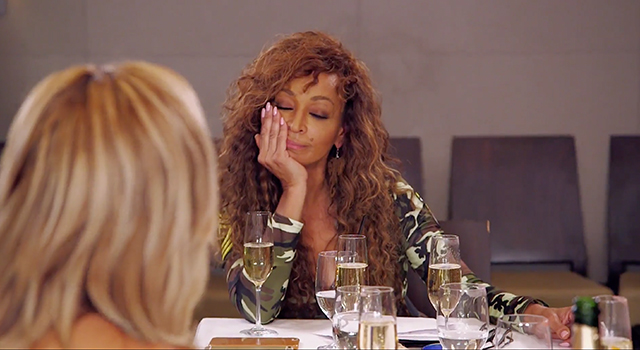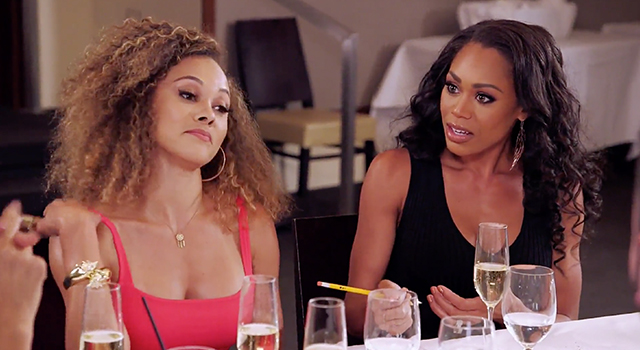 Bravotv.com:
What did you think of the press conference (with no press) – What do you think about her getting so upset?
MS:  The "Press Conference" with no press was a disaster as far as I'm concerned. I thought I was coming to a dinner meeting with friends and found peanuts and water at the table in a dull room, in the back of the restaurant. I also thought the reason was for Karen to address us with answers so that there would be no need for conversation behind her back. I just wanted to know what we were dealing with, this way if I need to defend my friend, I would have all of the answers. I'm a loyal friend and I can't "ride" for you if I do not fully know you. Karen and I have been cordial to each other at this point, but we have never truly gotten to know one another. Although at times I'm a bit skeptical about who she is, I really want to give her a chance and get to know the real Karen Huger.
I really don't care about other people's finances, taxes, ding-a-lings, etc. It would be nice to just get along for once
Bravotv.com:
Why do you think Matt was there and what were you thinking when she brought up the ding-a–ling?
MS:  I think Karen brought Matt along because he must be someone she trusts completely. Clearly, she doesn't fully trust any of us! He must know more about what has been going on behind closed doors and may be able to provide additional insight in regards to the tax issue. Or maybe he doesn't, considering the way she chewed him out along with the rest of us ladies! I think Karen felt as though she was being attacked at some point, which is why she probably made the "Ding-a-ling" comment. That story was so old that I was totally shocked when she brought it up. I really don't care about other people's finances, taxes, ding-a-lings, etc. It would be nice to just get along for once!