All questions submitted by BravoTV.com
I chose not to conform so therefore, deals were left on the table
Bravotv.com:
Tell us your thoughts when you were talking to Karen Huger in her room. Why did you decide to be her earpiece?
Monique Samuels: I decided to talk to Karen because she made it her business to put the Gizelle saga to bed, once and for all. For a good two minutes, there was peace amongst the group. Now that Karen and Charrisse are at odds, I thought I could possibly help her out this time and give an unbiased opinion. Unfortunately, I could not get more than five words in, so at least I gave her an ear for listening. I understood that her heart was in the right place when she could only choose two women for the Team Japan ride, however, I also saw how it could frustrate the other ladies as well.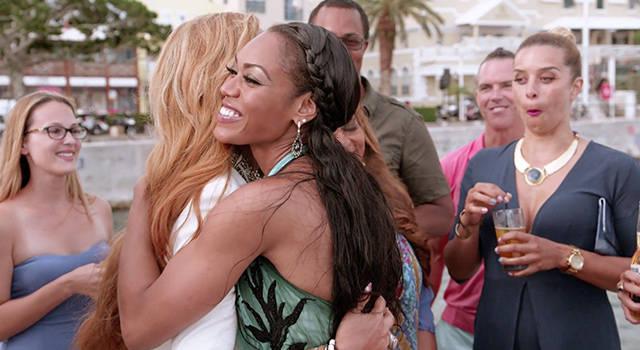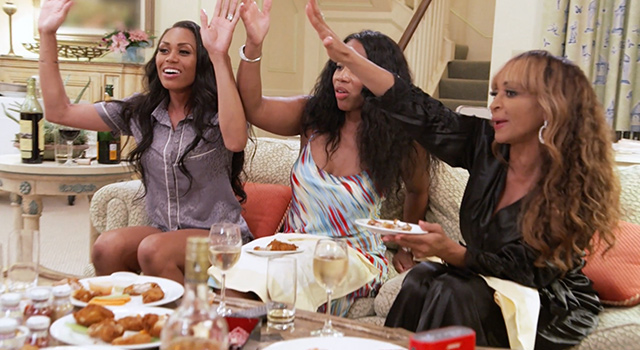 Bravotv.com:
Can you tell us more about your former rap deal and choosing not to pursue your career?
MS: There were several opportunities for me to sign label and production deals when I was pursuing a career in music. Unfortunately, I was always asked to either change my persona or several "strings" were attached along with the opportunity. My stage name was Hazel and my music was fun, club and dance music with a more positive message. I was asked to change my persona to be raunchy, over-the-top sexy or very "Street." I was not about to parade around, barely clothed, singing about men and sex. I don't have a street background so I wasn't comfortable with giving a more "gangsta" message. I'm blessed to have had the experiences I was able to share with music. I've been blessed enough to meet some of my icons and to collaborate with some of the most talented people (some of which have deals and fame today). I chose not to conform so therefore, deals were left on the table. I have several songs that still get airplay overseas to this day so that's pretty amazing! Every quarter I receive a statement of how many plays each of my registered songs receive, along with a check! Residual income is the best type of income and my music allowed that! As I began my career in real estate and business management, I had less and less time to devote to music. As I got older, I decided to let it go and now it seems to be calling my name again. You never know what the future holds.
The studio experience is totally different than just spitting a few bars for fun in front of people
Bravotv.com:
Which 'Wife would you want to rap on an album with you?
MS: Of the wives in Potomac, I would choose Charrisse and Ashley.  Charrisse already has a background in music, and Ashley is just hilarious with her lines!  I would love to get these girls in the studio!  The studio experience is totally different than just spitting a few bars for fun in front of people. It takes a lot of work, physical time and patience to create and record an entire song.  For me, it was always my escape from current situations and allowed me the space to dream. I think these women would find it as a stress reliever!
Bravotv.com:
How is your new house construction going? Have you moved in?
MS: The remodeling for our new home is pretty much done! We just had the entire house cleaned, so it's dust free! We just began moving in furniture last week. I'm planning to be fully moved in the next two weeks. With two young kids, I thought it was important for me to have everything fully completed so the kids wouldn't harm themselves. I also want them to be comfortable in their new home. This will more than likely be the home they actually remember when they get older.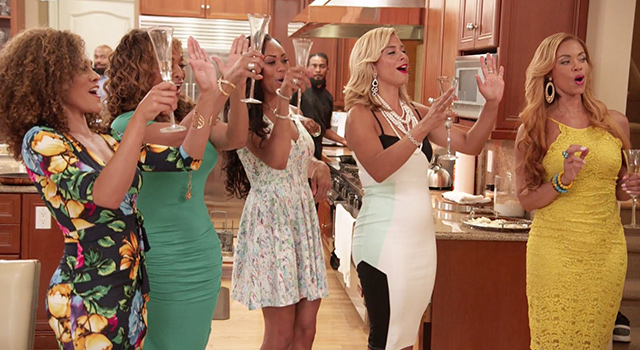 Bravotv.com:
Dealing with buying and selling homes yourself, what does it make you think about Karen's secrecy with her own move? Who is the Grand Dame of Potomac?
MS: Karen's secrecy when it comes to her move is still a mystery to me. She either doesn't want to tell us everything or she's hiding something. There's usually never so much suspense around buying and selling a home. You move because you've either outgrown a house, want to downsize, or simply want something different. When Chris and I were moving every year, we kept our main home in Vienna and rented a home in Tuscaloosa, Alabama since it was temporary and for work. I'm not understanding why Karen would want to rent a home much larger than the one she wants to downsize from (especially if the whole point of the move was to DOWNsize), all while she is deciding where she really wants to be. To each its own! I would only rent if, financially, it made sense. I don't believe in throwing money away, especially if I can afford to make a purchase. She and the Dr. Black Bill Gates must have a lot more money than anyone initially thought to be throwing away thousands every month! Cheers to them! As long as they're happy, that's all that matters!
You move because you've either outgrown a house, want to downsize, or simply want something different