All questions submitted by BravoTV.com
She, nor anyone else, can separate my marriage
Bravotv.com:
Tell us about arriving, the baskets and the first dinner — did you think Karen Huger was being shady towards Charrisse Jackson Jordan on this trip or just being a good host? Who's the real Grand Dame?

Monique Samuels: From the start, we were told that Charrisse and Karen were planning the trip together so I could not understand why Karen was separating the trip. One minute she would say this trip was for sisterhood and the next minute, she's "firing" Charrisse from planning. I've never seen so much tension between these ladies before. It was as if Karen had it out for Charrisse, and I could not understand why. I think her move from the Potomac is bothering her much more than she even knows.
Bravotv.com:
Were you surprised to see that Gizelle Bryant was the other lady Karen chose to join you sailing? How did that bus ride go?

MS: Yes, I was very surprised and I totally felt set up! I was fine with being cordial with Gizelle for the sake of the group, but I'm completely tired of everyone trying to force a friendship between us. On the bus, we finally had the opportunity to finish the conversation that was interrupted by Charrisse's tears. I explained to Gizelle that I thought she was just jealous of me, and she went on to say that I wouldn't be here if it weren't for "my husband's" bank account. That statement pretty much confirmed what I believed. First of all, what belongs to my husband, belongs to me and vice versa. That's called marriage. Gizelle seems like the type of person who cannot see past her own experiences. She obviously had a very separated marriage, and therefore thinks all marriages are the same way. She, nor anyone else, can separate my marriage and does not need to worry about OUR bank account. It's none of her business, and I'm not sure why she's so obsessed with it! Oh wait…that's right…she's looking for a man with a big bank account! I don't have the time or energy to allow her personal issues to disrupt my spirit. As with my mother-in-law, I can clearly see this is not a "Monique" problem. She has to figure out a way to deal with her deep insecurities and lack of self-esteem. I'll take the high road on this one and let bygones be bygones.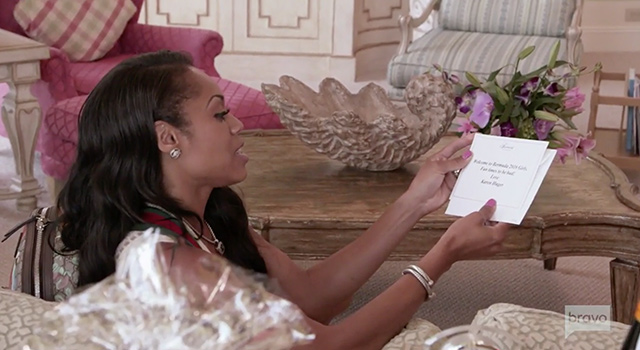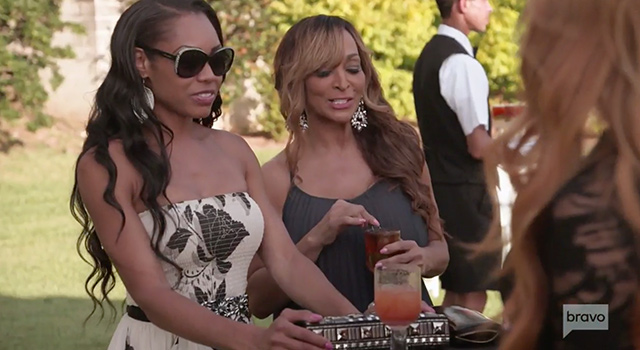 Bravotv.com:
How do you feel the sailing excursion impacted your relationship with Gizelle?

MS: Karen must've done some research! If you want to put me in a very vulnerable state, take me to the middle of the ocean. I was totally fine with not speaking to Gizelle since it was clear we just do not mesh, and here comes Karen with the ultimate set up. My guard was totally let down due to my fear of water. I can swim, but I'm not that great at it. The thought of putting my life in the hands of these two women was even more unnerving. Usually when I'm in the open water, I'm with my husband. I have full confidence in him to save me from drowning! During this excursion, I actually saw a more positive and fun side of Gizelle. I think my nervousness and fear forced her motherly side to come out. I was no longer a threat to her and we finally reached a point of moving forward.
I don't believe in putting on airs
Bravotv.com:
Gizelle mentioned that you speak as if reading from the Urban Dictionary. What do you think about that comment?

MS: I can't help that Gizelle is out of touch with the modern world, no more than I can help her count how many letters are in the word "TRICK." For someone who constantly makes negative comments about my intellect, she needs to check her grammar first. I've never claimed to be the most proper person. I don't believe in putting on airs just because my account has a significant amount of digits. I was raised to never put money on a pedestal. Clearly she does, which is why she's always so worried about language versus what material items she thinks I have. I graduated at the top of my class (Valedictorian and Salutatorian) and received a full academic scholarship to a very prestigious school, so I have been blessed to be both "book" and "street" smart.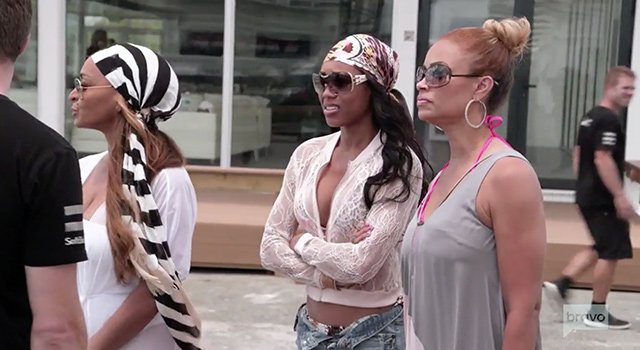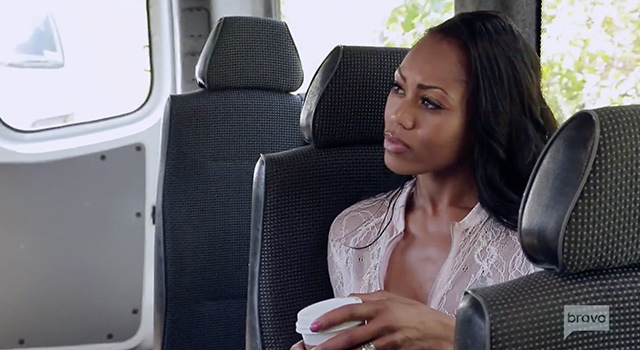 Bravotv.com:
What do you think about what Karen said off camera at the end of the episode? Did you know this happened?

MS: I was totally shocked and disappointed in the comments Karen made about Charrisse. I'm still trying to figure out how she assumed Robyn Dixon coming to her room for a confrontation translated as Charrisse being the one with the issue. There's something much deeper going on than "host and co-host" confusion. I always thought Charrisse and Karen's small arguments were funny. However, there was nothing funny about the way she spoke off camera about Charrisse. It'll be very interesting to see how their relationship recovers from this.