All questions submitted by BravoTV.com
I do not have to run my guest list through the 'Charrisse Jordan Approval Department'
Bravotv.com:
What do you think about Charrisse's reaction to you becoming friendly with her friends? Specifically with her reaction to you inviting Kyndall to your event.
Monique Samuels: I was totally thrown off guard by Charrisse's reaction towards me being friendly with Kyndall (her friend, not "friends"). It's not like we had never hung out together before so why is there an issue now? For her to imply that I invited her friends to the Hurricane Harvey event, as if she weren't the one to invite them herself, seemed very confusing. First off, Hurricane Harvey was a team effort on behalf of myself, Charity's Angels, Mark Moseley and Charrisse. Our job was to spread the word within our networks so that we could fill up both Uhaul trucks. Mission accomplished. I expressed my gratitude, not only to friends of Charrisse, but to all that showed up that day to volunteer and bring items. For her to somehow spin enjoying the friendship of Kyndall, into me "stealing" her friends is not only petty but a cry for attention. When it comes to the Gala, I do not have to run my guest list through the "Charrisse Jordan Approval Department."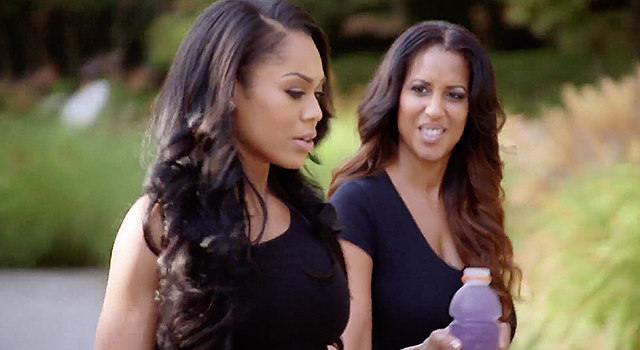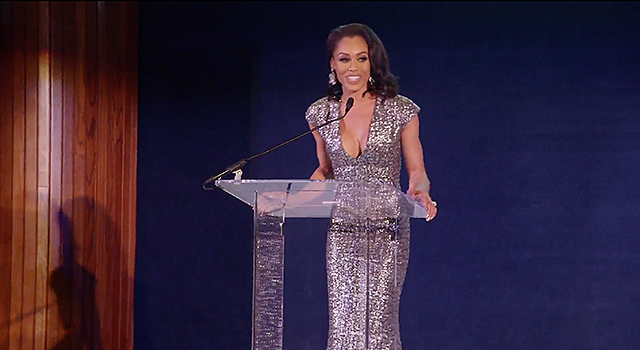 Bravotv.com:
Tell us a little bit more about finally being able to host your event despite all the drama surrounding it. Do you think Karen is a liar like Robyn thinks?
MS: I was excited to host the ladies at the Human Growth Foundation Gala and even more excited to raise awareness of childhood growth disorders. It's amazing the impact we can make just by spreading the word and I appreciate their donations. Karen offered to split her time and attend both events, so I don't see how this makes her a liar. The better question to ask would be why Robyn is so pressed for Karen's support, when a few weeks prior, she was happy to disempower Karen as she dealt with her supposed tax crisis.
Timing is everything and I believe it will pay off in the end
Bravotv.com:
Where do you see your budding friendship with Kyndall going – do you agree with her that Gizelle should have called her about her relationship with Sherman?
MS: When I first met Kyndall, I instantly hit it off with her. We exchanged numbers during our initial meeting and would hang out often as a group prior to me even moving to Potomac. Our friendship is nothing new. We've never lost touch and I enjoy getting to know her more. She invites me to her events and I've invited her to several of mine. As far as her ex-husband's relationship with her associate, Gizelle, I do believe she should have been told.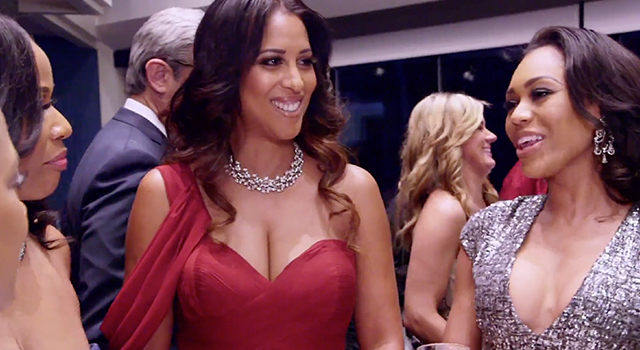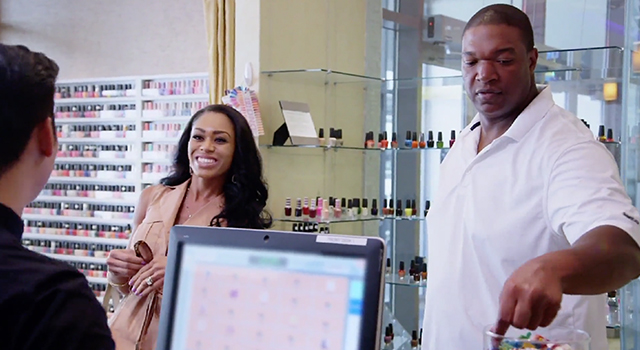 Bravotv.com:
Do you and Chris get mani-pedis often? Tell us about Chris needing to be catered to still and wanting more children.
MS: Chris and I have always enjoyed getting our manis-pedis. This is something that we have done since our dating years. It's nice because we can relax and catch up, just the two of us. We always bring our favorite wine and relax while getting our feet massaged. It's our "thing." I will always cater to my husband and he'll always cater to me. That's how I believe a marriage should operate. I've definitely spoiled him with my attention over the years, so lately there has been an adjustment period while laying the foundation for my business ventures and charitable efforts. He's been very patient and understanding as I've been meeting and networking with so many people. My goal is to do all of the groundwork to get things going smoothly and by the time my deals close, we can focus on having more babies. Timing is everything and I believe it will pay off in the end.
It may be wise not to date the ex-husbands/boyfriends of women you're acquainted with
Bravotv.com:
Tell us what was going through your mind the moment Karen decided to invite Kyndall to her event – why do you think she invited her?
MS:  I didn't realize Kyndall already knew the ENTIRE group of ladies. I'm still new to this group of women and did not understand how deep their relationships were. I didn't want to put Kyndall or Gizelle in an uncomfortable position, and since I had no intentions of inviting Gizelle to this event, I saw nothing wrong with extending an invitation to Kyndall. I was honestly shocked when Karen invited her to the O Charity Gala because we all knew the entire group would be there. I do applaud Karen for giving Gizelle a heads up that she invited Kyndall, because she didn't have to do that. At any rate, we're all grown women, responsible for our own actions. It may be wise not to date the ex-husbands/boyfriends of women you're acquainted with. That would definitely help to avoid drama.